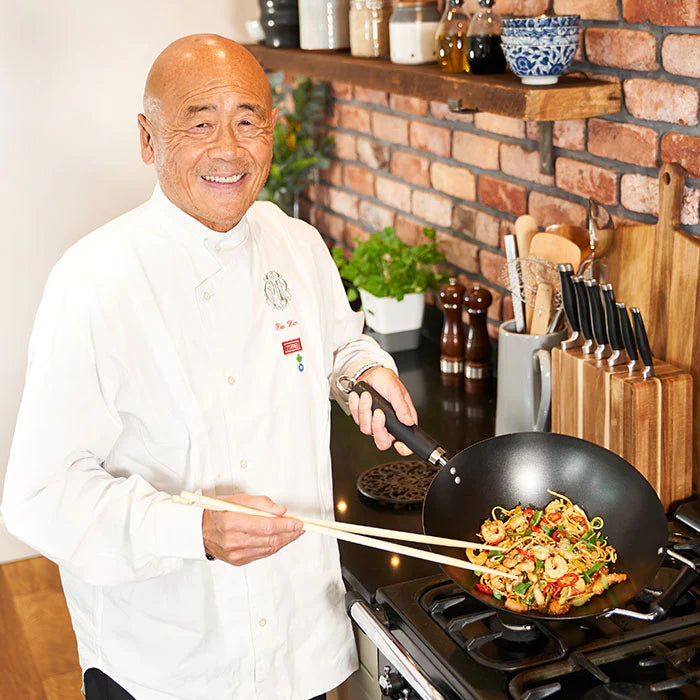 Ideal Wok Pairing: 8" Mini Wok - Perfect for smaller dishes; a lightweight, flat bottomed wok.
-----
Ingredients:
1.5 tbsp groundnut oil
3 tbsp finely chopped shallots
2 tbsp coarsely chopped salted black beans
1.5 tbsp finely chopped garlic
1 tbsp peeled and finely chopped fresh root ginger
2 red, yellow and green peppers, deseeded and cut into 2.5cm squares
2 tbsp Shaoxing rice wine or dry sherry
1tbsp chili bean sauce
2tbsp dark soy sauce
2tsp caster sugar
150ml vegetable stock
2tsp sesame oil
-----
Method:
Heat the wok over a high heat until hot, then add the oil. Once the oil is hot, add the shallots, black beans, garlic and ginger, and stir fry for 1 minute.
Add the peppers and stir fry for 1 minute.
Add the wine or sherry, chili bean sauce, soy sauce, sugar and stock and continue to cook over a high heat for 5 minutes or until the peppers are soft and most of the liquid has evaporated.
Stir in the sesame oil and mix well. Turn onto a platter and serve.