Stir-fried Mixed Vegetables Recipe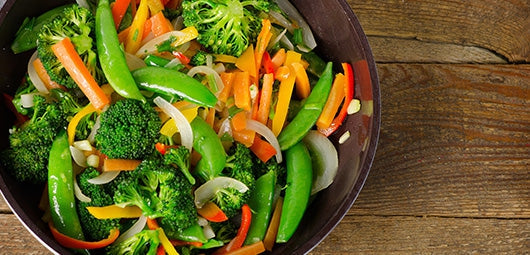 The art of stir-frying vegetables is knowing when to add them to the wok. Put the tougher, more textured ones in the wok first to give them a head start. The amount of water you need to add depends on how much natural water is in the vegetables you are using. Ensure you add only the minimum amount (1-2 tablespoons) if you are using the wok covered, otherwise the vegetables become soggy.
---
Ingredients (Serves Four)
225g Chinese leaves, 225g Chinese Greens, such as Chinese cabbage
225g Asparagus, 225g Carrots
2 tbsp. sugar
1 tbsp. rice wine, 2 tbsp. sesame oil
1.5 tbsp. ground nut oil
2 tbsp. coarsely chopped shallots
2 tbsp. coarsely chopped garlic
2 tbsp. finely chopped ginger
---
Cooking Instructions
Cut the Chinese leaves into 4 cm. strips then cut the greens and asparagus into 4cm pieces. Cut the carrots on the diagonal into slices 5mm thick.
Heat the wok. Add the ground nut oil and, when it is hot, add the shallots, garlic, ginger and 2 teaspoons of salt and stir-fry for 1 minute. Then add the carrots and asparagus and stir-fry for 30 seconds. Add 1-2 tablespoons of water, cover and cook over high heat for 2 minutes.
Add the Chinese leaves, greens, together with the sugar and rice wine or sherry. Stir-fry for 3 minutes or until greens are thoroughly wilted. Add sesame oil and serve.
"