Stir-fried Peppers with Scallops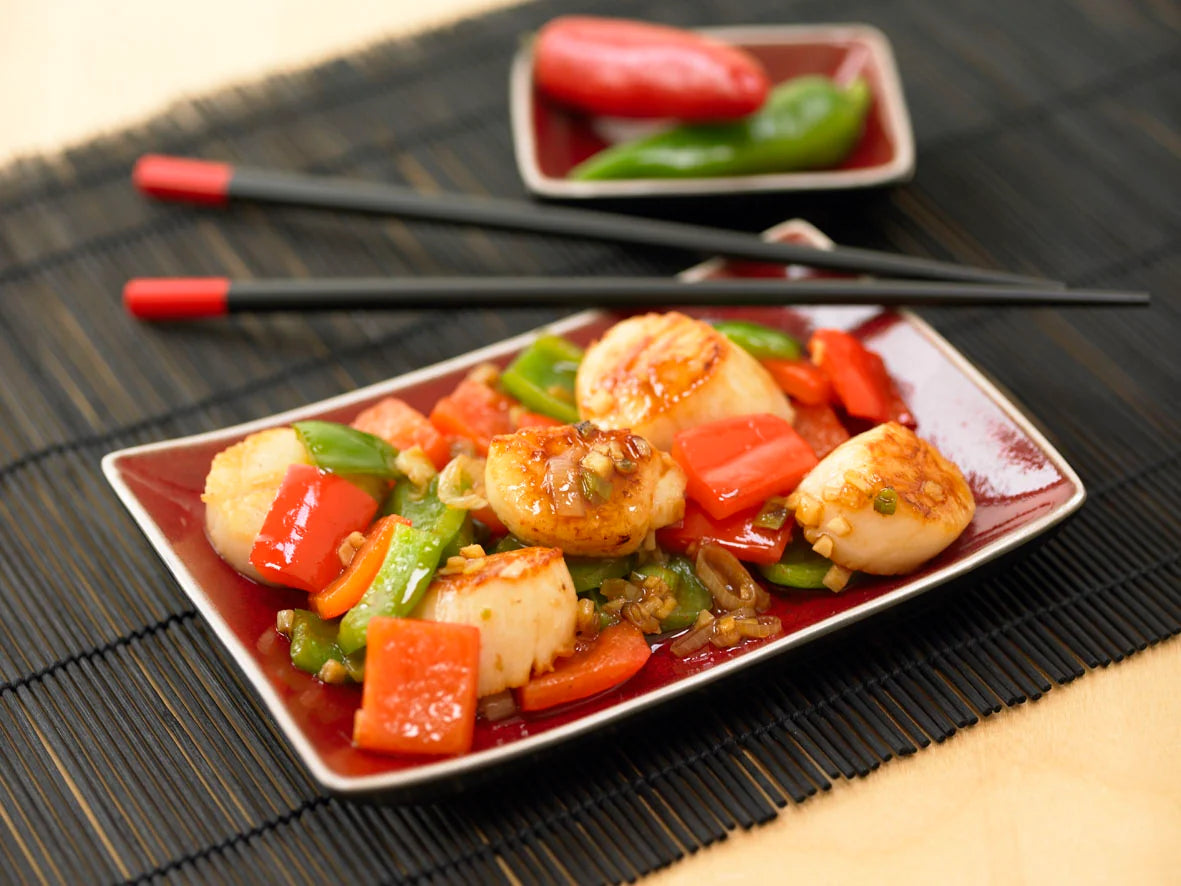 Scallops are fragile, sweetly delicate morsels and need very little preparation or cooking time. They embody the virtues of "quick, easy, delicious". In this recipe, I combine them with nutritious, flavorful, and colorful red and green peppers. The result is a festive looking dish that belies its ease of preparation. Perfect for a family meal or as the centerpiece of dinner party prepared on short notice.
------
Ideal Wok Pairing: 8" Wok with Wooden Handle - Small sized, non-stick wok that works well in high temperatures.
-----
Ingredients:
1 lb (450g) fresh scallops
8 oz (225g) red peppers, about 2
4 oz (100g) green pepper, about 1
1 1/2 tablespoons oil, preferably groundnut
1 1/2 tablespoons spring onions, coarsely chopped
1 tablespoon garlic, coarsely chopped
2 teaspoons fresh ginger, finely chopped Sauce
1 tablespoon light soy sauce
2 teaspoons yellow bean sauce
2 tablespoons rice wine or dry sherry
1 teaspoon sugar
1 teaspoon sesame oil
-----
Method:
Dry the scallops with kitchen paper and set aside. Cut the peppers into 1 in (2.5cm) squares.
Heat a wok or large frying pan until it is hot, then add the oil, spring onions, garlic, and ginger, and stir-fry for 10 seconds. Then add the peppers and stir-fry for 2 minutes. Stir in the scallops and the sauce ingredients. Continue to cook for another 4 minutes. Serve at once.
Pro Tip:
* You can substitute asparagus, zucchinis, or peapods for the peppers.
* If you like very spicy food, add two fresh chilies to this recipe.
* Variations for this recipe: use mussels or clams instead of scallops.